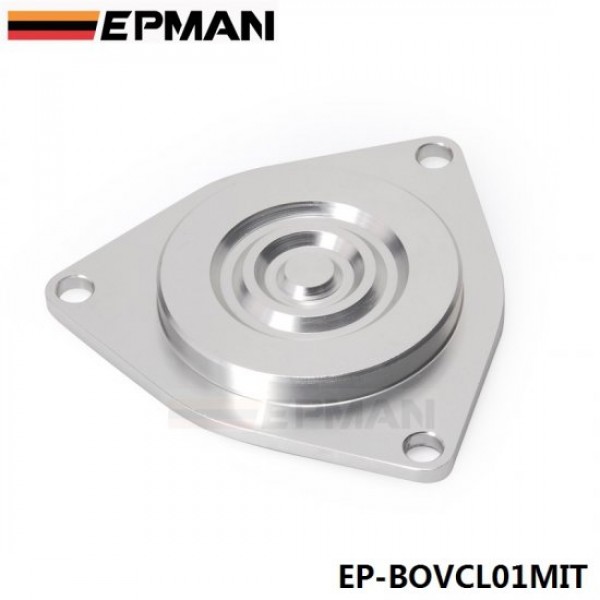 EPMAN - High Quality Auto Turbo Bypass Valve Blanking Plate For Mitsubishi CBV Block Off Plate EP-BOVCL01MIT
Stock:

In Stock

Model:

EP-BOVCL01MIT

Weight:

0.20kg

SKU:

EP-BOVCL01MIT
20 or more Additional 4.1% Off
( Additional 4.1% Off)
You are buying on 100% Brand New of:
EPMAN - High Quality Auto Turbo Bypass Valve Blanking Plate For Mitsubishi CBV Block
Our compressor by-pass valve (CBV) blocking plate is perfect for anyone who wants to properly install an aftermarket diverter valve or blow-off valve to their Car.
The flange replaces the stock CBV rubber diaphragm and seals the port. The flange is manufactured using billet 6061 aluminum and CNC machined for precise fitment. A high quality rubber gaskets also ensure no boost leaks.
Our CBV Blocking Plate works Fit For Mitsubishi TD04HL turbochargers.
Applications:
We recommend everyone to fits a BOV on a turbo engine to replace the By-pass valve with a BOV cover
Flw Car model just for reference,Maybe still could fit other car modle,please check the item size as picture.
Fit For Volvo Fitment Guide (Just Reference):
1994 - 1997 850 (all turbo models)
1998 - 2000 S70, V70 (all turbo models)
1998 - 2004 C70 (all turbo models)
2001 - 2004 S60 T5, V70 T5
2001 - 2009 S60 2.4T, 2.5T FWD/AWD
2001 - 2007 V70/XC70  2.4T, 2.5T, FWD/AWD
1999 - 2006 S80 2.5T, T6 (two needed)
2003 - 2006 XC90 2.5T FWD/AWD, T6 AWD (two needed)
Fit For Saab Fitment Guide(Just Reference):
1994 - 1998 9000 AERO
2000 - 2002 9-3 SE (high output turbo models only)
2000 - 2002 9-3 Viggen
1999 - 2002 9-5 AERO
   *******To report errors or help with purchase*********
*No installation Tool & No instruction is Included, Professional Installation is Recommended*