You are buying on 100% Brand New of:

EPMAN Billet Aluminum BOV Blow Off Valve Adapter 2.7 Turbo For Silverado Sierra Tahoe CT4 19+ EPAA01G133K

*** Quantity per carton : 50 Sets ****

Product Features:
-Condition: Brand New& High Quality
-Type: BOV Blow Off Valve Adapter
-Material:
Bolts: Stainless Steel
Adapter: 6061 Billet Aluminum (Anodized Surface)
High Performance Viton O-rings
-Color: Black (We also have Red /Blue Color,Please Contact us before order)
-The Billet Stuff Blow-Off Valve Adapter mounts directly to the compressor housing of the turbocharger.
-New Design includes both fine thread and coarse thread hardware

Application:
For Cadillac CT4 2.7 Turbo 2019 2020 2021 2022 2023
For GMC Sierra 2.7 Turbo 2019 2020 2021 2022 2023
For Chevrolet Silverado 2.7 Turbo 2019 2020 2021 2022 2023
Also fits many other 2.7L Turbocharged GM vehicles not listed

Package Included:
1 Set of Blow Off Valve Adapters (same as the picture)

Easy Installation:
1. First locate the Blow Off Valve in the front passenger side engine compartment
2. Disconnect the power wire to the Blow Off Valve
3. Remove the 3 bolts that attach the BOV to the flange
4. Now you will have to rotate the Blow Off Valve Adapter in place.
5. Note: The factory holes are spaced to only allow the Blow Off Valve to be installed one way.
6. Lightly oil the threads on the supplied bolts. Do not over tighten.
7. Once you have tightened all the bolts and install the factory hose and electronics your set.

Product Description
blow off valve adapter was designed to give you that atmospheric blow off sound you're looking for on your turbocharged Chevy Silverado / GMC Sierra / Cadillac CT4 2019+ w/ 2.7T engines. A simple bolt on modification that is compatible with the factory tune and is completely reversible.
EPMAN Blow Off Valve Adapters are designed with a reverse cut rectangle port to ensure the best pressure and whoosh sound. The dimensions of the BOV cutouts are carefully considered to maintain the right amount of pressure and velocity for the perfect sound.
This BOV adapter enables the diversion of hot boost to the atmosphere, rather than recycling it, thereby preventing the creation of excessively high inlet temperatures.

We only sell style and quality, We sell the Orignal EPMAN Brand.
All items are Brand New unless stated otherwise on the listing.
We sell DIY (Do It Yourself) Items with a few exceptions. We take no responsibility in teaching you how to install. Professional installation is strongly recommended.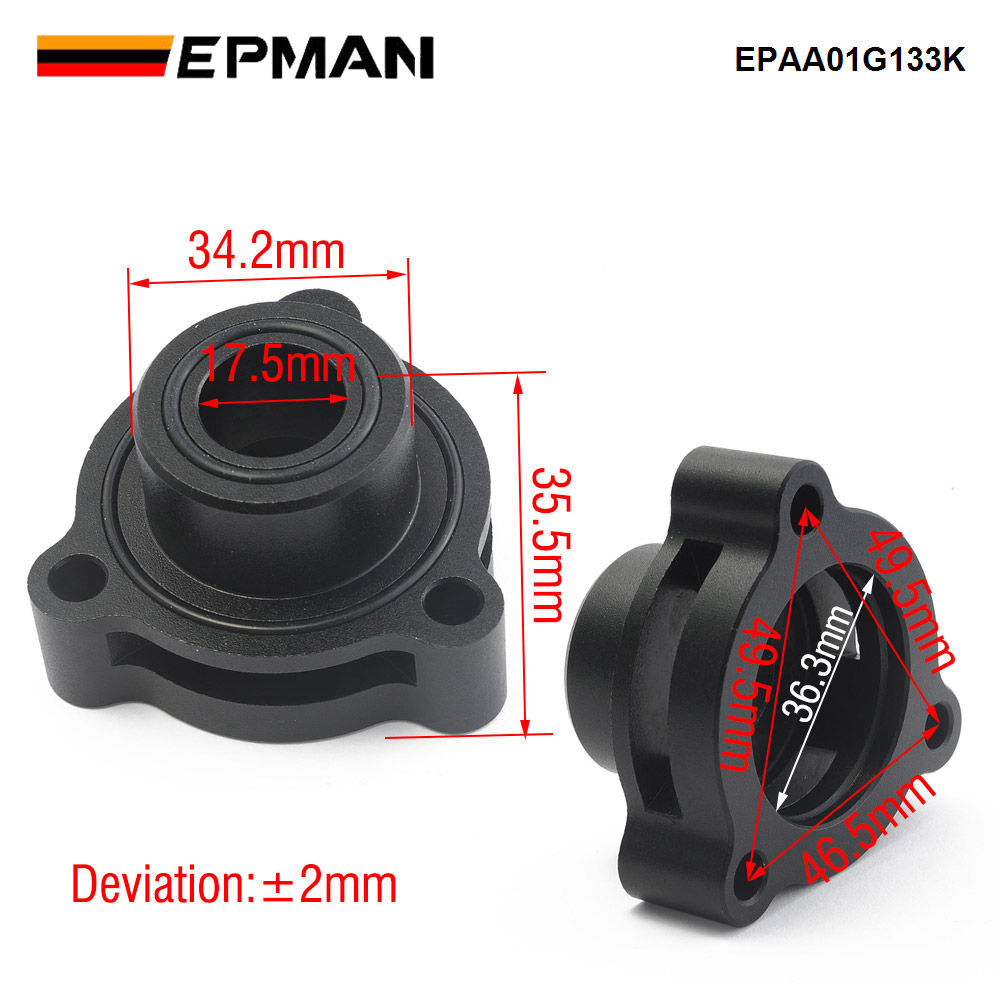 Technical
Item Name
Blow Off Valve
Material Type
6061 Billet Aluminum
Color option
black
Fitment
For Cadillac Chevrolet Ford
Type
BOV Adapter Vent to Atmosphere
Transmission Type
For GMC Sierra 1500 2.7  2019 - 2023Turbo BOV Spacer
Note
For Chevy Chevrolet Silverado 1500 2019 - 2023 2.7 Turbo